Ivana Svobodová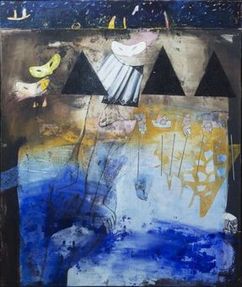 Ivana Svobodová (Born in Prague on 28 April 1952)
Academic Painter
Education:
1967-1971 College of Applied Arts, Prague
1974-1980 Academy of Fine Arts (prof. Karel Souček) Prague
The oil painting is typical for painter Ivana Svobodová. Abstraction symbiosis with figural expression, which is the substance of her works. "Woman"is frequented and repeated inspiration in different forms. Sometimes almost tender women´s silhouettes, another time depleted while dancing, temper and passionate referring to Femme Fattale…but also landscape, enchantment by nature, especially symbolism of birds and snails is strengthening autor´s not interchangeable trace. Ivana Svobodová has exhibited her works since 1982. Her works are represented in local as well as foreign galleries and in many private collections.
Independent exhibitions:
1989 Art Gallery Vandergeten Belgium
1991 Centrum Gallery Prague
1992 Ars Tempotis, Klagenfurt, Austria
1993 Centrum Gallery Prague
1994 Karolinum (with K. Sládek and L. Klusáček) Prague
1995 Bad Camberg Gallery, Germany
1997 Creditanstalt Bank, Prague
1999 Gallery " Černá labuť", Prague
2000 Fryderik Gallery (with M. Krajíček) Mariánské Lázně
Participation on collective exhibitions (selection):
1983 Retrospective Exhibition of Czechoslovak Visual Artists, "U Hybernů"
1984 Exhibition of Young Artists, V. Špála Gallery, Prague
1985 Our Contemporary (exhibition of Young Artists, Prague, Bratislava, Kazan, Warsaw, Moscow, Retrospective Exhibition of Czechoslovak Visual Artists, Prague Castle Riding Hall, Prague, 17th International Festival of Painting, Cagnes – sur – Mer III International Triennal of Young Drawing, Nuremberg, Linz
1986 Circus and Cabaret in Fine Arts, V. Kramář Gallery, Prague, Prague Painting Symposium, Garxovo Gallery, Bulgaria
1989 Art Basel´89
1990 Exhibition of the Young, Prague
2001 "Salva Guarda", Litoměřice
2002 Intersalon, České Budějovice
2004 Intersalon, České Budějovice
2011 "Rande – vous", castle Nové Hrady
---