About us
Home

About us
Hanel gallery is a continuation of my journey in the field of fine arts, which began in early childhood in my father's atelier. Following admiration for glass and desire to learn the techniques of its working brought me to TGK studio in North Bohemia, where I designed and made my first vitrage. Execution of more pieces followed, especially the cubist inspired vitrage paintings. At the time I was a head of the Atelier of Contemporary Art and Design in Lesser Town in Prague largely cooperating with the Center for Artistic Crafts of that time. Many artists of all different forms of art found a place here to present their works which later spread around the world. My next place of work then was at the Gold Lily Prague gallery, where I worked as a gallerist with my own exhibition projects. To me personally art is something of a permanent value, indespensable and enriching our lives. Quality art, which we want to invest our money in, further extending its collection and surrounding ourselves with it – be it our home or work premises – should meet these criteria and brings us spiritual and aesthetic delight and fulfilment. This is exactly the kind of art I wish to offer you on this website.
Hanel gallery represents contemporary art by well-known authors – painters, sculptors and glassmakers who have done a great deal of work and become famous at home and abroad as well. Besides the pieces of art for sale we also provide exhibition projects in representative premises of companies, hotels etc. By purchasing a piece of art you may gain a profit from the money you put into it but guaranteed forever is that
INVESTING IN ART – INVESTING IN JOY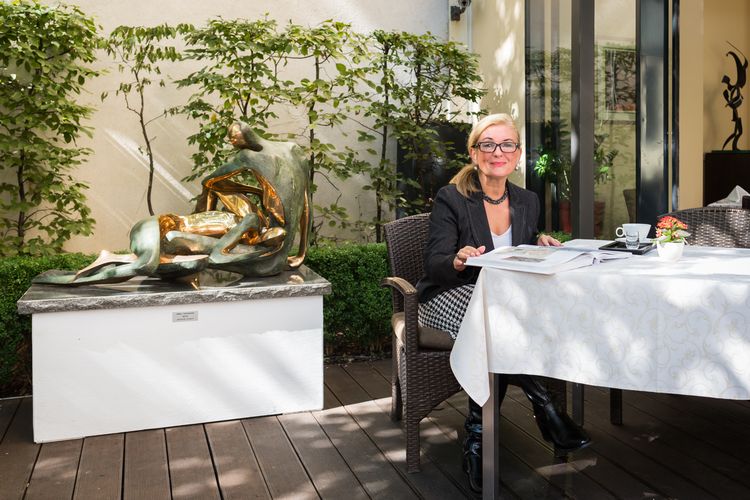 I look forward to you.
Taťána Hanelová
---